I have fond memories of doing puzzles when I was younger and always enjoyed doing them with all my family on a Sunday evening. I'm sure parents will not argue that children's jigsaw puzzles is truly an educational toy for toddlers and preschoolers. They have been around for a long time. Yet, it's often considered to be more superior compared to most recently-developed child educational toys. This is due to the fact that puzzles are low in cost and children rarely loose interest in them.
Puzzle enhances your child's development by:
It improves hand-eye coordination since children will have to fit the pieces together properly.

It develops logical thinking.

It develops pre-reading skills by enhancing

the ability of children to recognize shapes.

It helps to develop children concentration.

It enhances social skills such as

taking turns and working together
In this regard there are 3 things which have to be looked at when shopping for child jigsaw puzzles:
The easiness to match the piece with the hole in the board (for single-piece jigsaw puzzle) or to each

other (for more-than-one-piece jigsaws).

Number of pieces.

Durability and ease of handle
If you are a home based childcarer like me you could also try and aim to purchase puzzles which link in with their interests, topics and multicultral images.
We have been sorting out our puzzles this week and plan to put some a side which were missing pieces to make some crafts like these below. I have a problem with throwing things away so I will be hunting through

pinterest

for some more ideas.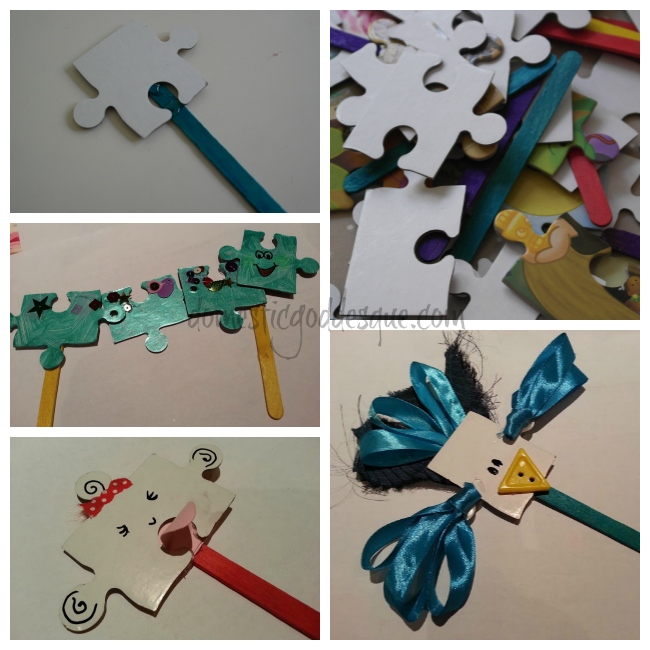 Sponsored post